A Keepsake Urn is also available for $399.97. Great idea to purchase both as a set. Price for both is a special price of $1199.97 complete. SAVE $100! Measures 3.625\\\"Dia. x 6.75\\\"H 1 cu. in. per keepsake. NOTE - ADDITIONAL KEEPSAKES MAY BE ADDED! Weight is 1 lb. Standard shipping included for all items listed. Overnight or 2-3 day shipping available for an extra charge upon request. PLEASE - make sure to note on your order form whether you are choosing to purchase the set (1 Adult & 1Keepsake) or an individual item or multiples of that item.">

Toll Free Number
1-888-782-2753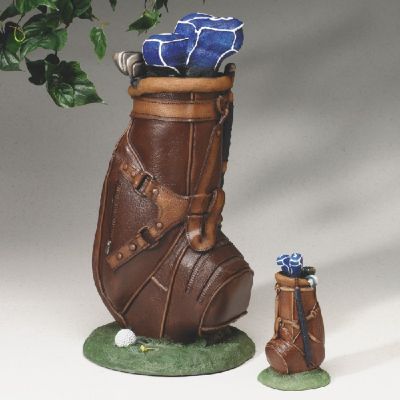 Masters Golf Club Urn
Description :Cultured material with a realistic texture and appearance; hand-painted and air brushed in great detail. Complete in detail with the bag on the green, a golf ball, tee, and covers for the golf clubs.

Bottom-opening stopper seals with adhesive (included).
Free standard shipping is included for either item.
Measures 9\\\"Dia. x 17.5\\\"H 228 cu. in. Weight is 8 lbs.

A Keepsake Urn is also available for $399.97. Great idea to purchase both as a set. Price for both is a special price of $1199.97 complete. SAVE $100! Measures 3.625\\\"Dia. x 6.75\\\"H 1 cu. in. per keepsake. NOTE - ADDITIONAL KEEPSAKES MAY BE ADDED!
Weight is 1 lb.

Standard shipping included for all items listed. Overnight or 2-3 day shipping available for an extra charge upon request.

PLEASE - make sure to note on your order form whether you are choosing to purchase the set (1 Adult & 1Keepsake) or an individual item or multiples of that item.



| | |
| --- | --- |
| Typical Price: | $2199.88 |
| Our Price: | $899.97 |
Back


OR

Fax Method : Order by Fax

---
Web Development & Maintenance by Gray Hat Web