Toll Free Number
1-888-782-2753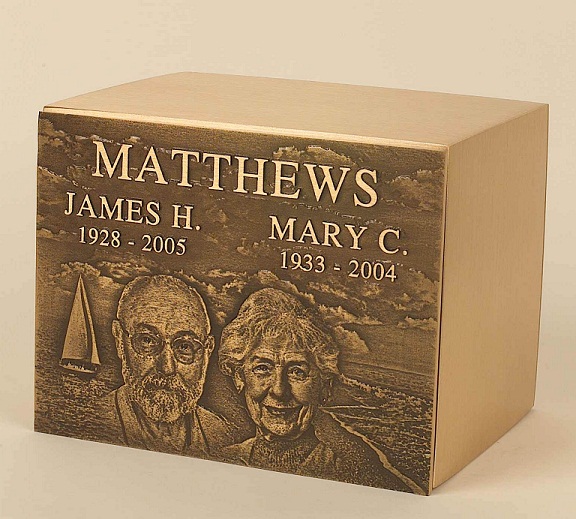 Bronze Side by Side Companion Lasting Memories Urn
Description :Technology and timeless bronze have merged to create the perfect
Memorial for 2 people - friends, spouses, family - anyone! MADE IN THE
USA! Matthews Bronze international is the manufacturer of this quality
product. Call 1-800-550-7262 for any questions.

370 cu in capacity which is enough for 2 average size peoples
cremated remains. This model is side by side in design for easy
placement into most Niches, or for display it takes less room.
9inch wide x 5.5inch high x 9inch depth

INSCRIPTION - Standard 1 Family Name & 2 individual names and dates
are included in the price. You may send 3 photos total for the
background or any combination you wish cast in bronze!

3 photos can be sent to us in jpg, tiff, etc files with at least
300 dpi. The clearer the photo, the better the product. A portrait can
be pulled out of photos that have others if thats all you have.

6-8 weeks is required to plan for ordering to completion and then
shipping will take place after that. Standard shipping (2-5 days most
locations)is $25. Overnight or 2 day available for additional charges.
Call 1-800-550-7262 for a quote.

| | |
| --- | --- |
| Typical Price: | $4199.99 |
| Our Price: | $1995.00 |
Back


OR

Fax Method : Order by Fax

---
Web Development & Maintenance by Gray Hat Web