Toll Free Number
1-888-782-2753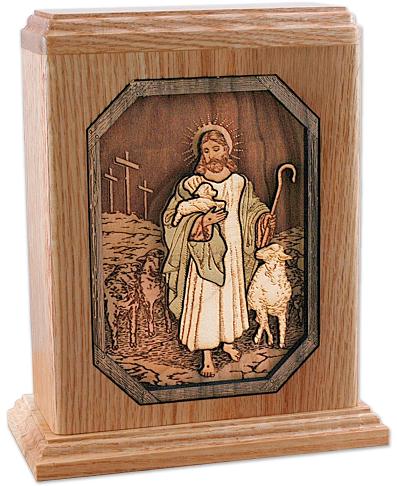 Lord is My Shepherd Wood Urn Single or Companion
Description :As David the Psalmist says in the 23rd Psalm - "The Lord is My Shepherd, I shall not want". What a statement for those trusting in their saviour & shepherd, the Lord Jesus Christ.

This beautiful and sacred urn has a completely natural wood inlay design on the front from natural colored woods from around the world! Measures 8 1/4" x 8 1/4" x 10 1/2"H and has a 200+ cu in capacity for 1 set of adult cremains. May be selected in either Oak or Walnut wood.

NOTE - Also available in a COMPANION size large enough for 2 sets of cremated remains. The size 8 1/2" x 9 1/2" x 10 1/4". Choose either Walnut or Oak. The price is $479.97 with standard shipping included in the price. If selecting the companion, please make a note on your order form at time of purchase.

Custom laser engraving is available for just $59.99 for up to 4 lines. May be placed on either the top or side.

Standard shipping is included in the price. Overnight or 2-3 day shipping is available for an extra charge.

| | |
| --- | --- |
| Typical Price: | $995.95 |
| Our Price: | $449.97 |
Back


OR

Fax Method : Order by Fax

---
Web Development & Maintenance by Gray Hat Web