Toll Free Number
1-888-782-2753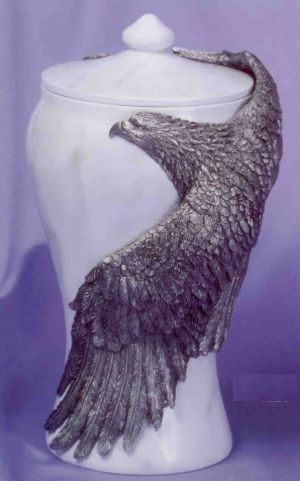 Soaring Free Pewter and Marble Urn
Description :This majestic pewter eagle has outstretched wings that embrace the sides of this beautiful urn. The pure white contrast against the silver of the eagle presents a breathtaking presence.

It stands a full 15" high is 9" wide and has a capacity of 230 cubic inches.

ALSO AVAILABLE is a keepsake size just like the adult in style and quality - 8 1/2" x 5 1/4" in size with a 70 cu inch capacity. Just $199.97 Standard shipping is included in price.

PACKAGE PROGRAMFor selecting both urns shipped at the same time, receive the adult and 1 keepsake for just $499.97 and save!

"I dreamed of the Eagle, soaring high above,
Majestic and graceful, with spirit, hope & love."

Standard shipping is included in all the pricing for all items. Overnight or 2-3 day shipping is available for an extra charge.

| | |
| --- | --- |
| Typical Price: | $999.00 |
| Our Price: | $393.97 |
Back


OR

Fax Method : Order by Fax

---
Web Development & Maintenance by Gray Hat Web