capacity of 200 cu inches for 1 set of adult cremains. Engraving is beautiful when placed on the top with the Purple Heartwood. Only $59 for up to 4 lines. Check our Pet Urns category for a companion Cat keepsake wood urn just for the cat of your life. Standard shipping is included in the price. Overnight or 2-3 day shipping is available for an extra charge.">

Toll Free Number
1-888-782-2753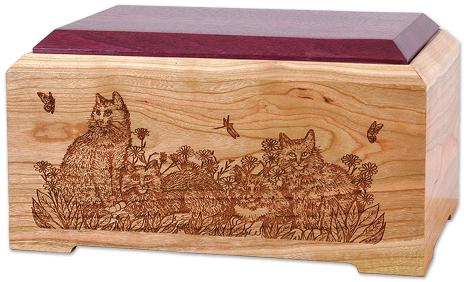 Cat Lovers Wood Urn
Description :Built from Light Cherry wood with a Purple Heartwood inset at the top, a custom engraved picture of cats having fun in the garden is etched into the front. Fluttering around the cats are butterflys in a garden full of flowers.

Measures 10 1/2" x 7" x 5 1/2"H with a capacity of 200 cu inches for 1 set of adult cremains. Engraving is beautiful when placed on the top with the Purple Heartwood. Only $59.99 for up to 4 lines.

Check our Keepsake Urns category for a Cat keepsake wood urn just for the cat you loved or a portion of the cat lover.
Priced at just $159.99

Standard shipping is included in the price. Overnight or 2-3 day shipping is available for an extra charge.

| | |
| --- | --- |
| Typical Price: | $599.95 |
| Our Price: | $249.97 |
Back


OR

Fax Method : Order by Fax

---
Web Development & Maintenance by Gray Hat Web