*NOTE - the lid has just been changed by taking the knob on top, and moving it into a recess within the lid. This improves the urn and makes the top of the lid flat and far more easy to place into a niche. Nothing other than this small change for the top handle has been changed. Free standard shipping included in price. For an extra charge, Overnight or 2-3 day shipping is available. SPECIAL OFFER We will include a beautiful Angel of Grace angel figurine with the Comfort Cross dish/bowl which can be used as a candle holder,vanity dish or whatever you wish! A $59.99 value, as a free gift with purchase! Check with us if you wish additional figurines and dish. ">

Toll Free Number
1-888-782-2753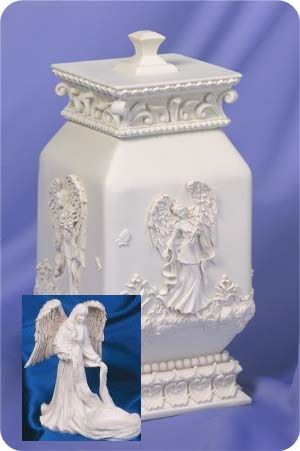 Angelic Forever Loved Urn with Free Gift
Description :This beautiful Urn holds up to 184 cubic inches. It measures 6\\\" x 6\\\" x 11\\\". It opens from the top. Easy to place the cremains inside and seal the top.

Freely designed Angels in a square classic design, made with a pure polystone marble. Made to handle a full size adult remains. NOTE - the color of this urn is not white, but rather an off white.

*NOTE - the lid has just been changed by taking the knob on top, and moving it into a recess within the lid. This improves the urn and makes the top of the lid flat and far easier to place into a niche. Nothing other than this small change for the top handle has been changed.

Free standard (3-7 days) shipping $15. For an extra charge, Overnight or 2-3 day shipping is available.

SPECIAL OFFER We will include a beautiful Angel of Grace angel figurine with the Comfort Cross dish/bowl which can be used as a candle holder,vanity dish or whatever you wish! A $59.99 value, as a free gift with purchase!

Check with us if you wish additional figurines and dish.

| | |
| --- | --- |
| Typical Price: | $629.99 |
| Our Price: | $259.97 |
Back


OR

Fax Method : Order by Fax

---
Web Development & Maintenance by Gray Hat Web