Toll Free Number
1-888-782-2753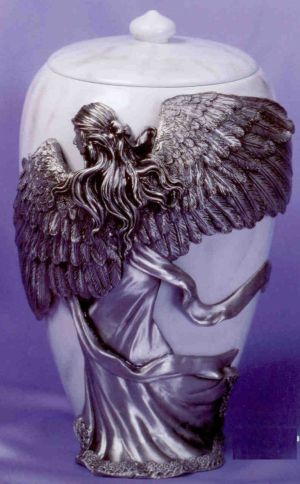 Pewter Angelic Embrace Keepsake Urn
Description :This elegant Angel design touches the heart and soothes the soul.
Pewter Angel attached to a Polystone with Marble appearance.
Measures 5 1/4\" x 3 1/2\" x 3 1/2\" high - 8 cubic inches. $119.97

Perfect for keeping private remembrances such as:
· Photographs · Wedding Ring
· Lock of Hair · Poem
· Special Notes · Special Piece of Jewelry

MEDIUM size available also for $199.97 Code is #45320.
Measures 8 1/2\" x 6\" x 6 3/4\" - 60 cubic inches


This is a miniture of the Adult full size urn which is also
available. See Angel Urns category for this and many other
choices.

This breathtaking beauty is an excellent choice in itself to
reflect the love and \"eternal care\" hoped for a missed loved one.

The LARGE Adult size Measures 13\" x 9\" x 9\" - 230 cubic inches,
The price is $449.97 for just the Adult. Code is #as45220

Save Now - buy a package of both the Adult and a small
Keepsake at the same time for only $499.99. Each additional
Keepsake can be added for only $49.99 if purchased together with
the set.

Standard shipping included in price. For an extra charge,
Overnight or 2-3 day shipping is available upon request.

| | |
| --- | --- |
| Typical Price: | $249.00 |
| Our Price: | $119.97 |
Back


OR

Fax Method : Order by Fax

---
Web Development & Maintenance by Gray Hat Web