MADE IN AMERICA FOR AMERICAN FAMILIES! Special Honor and Respect is due to every man and woman who have served our country in the US Armed Services. And nothing is better to honor them at time of need than this US Made casket. This 18 gauge selection has a specialized shell with a 32 inch width at the shoulders, Flag Emblems on the Handle Lugs all around. Complete with a gasket and sealing hardware. NEED A LARGER SIZE INTERIOR? Call us and we can work with you for interior widths up to 44 inches! Call 1-800-550-7262 The interior is a unique Military uniform style fabric and is used for all of the Tailoring and Trimming throughout. In the Head panel is a 10 inch Service Seal embroidered emblem brilliantly displayed. For an extra charge, a smaller emblem (6 inch is best) can be placed on the blanket if desired.Cost $195 The finish is Black on the entire shell with a double chrome pin stripping accent on the top lids. Red striping is on all the edges. Shipping anywhere in the USA. Standard shipping (1-5 days depending on your location) is $125-$350. Overnight or rush is available for an extra charge. Call for quote. Check with us by providing the Zip Code of the delivery point so we can quote this to you. Call us at 1-800-550-7262 for answers to your questions.">

Toll Free Number
1-888-78-CASKET (1-888-782-2753)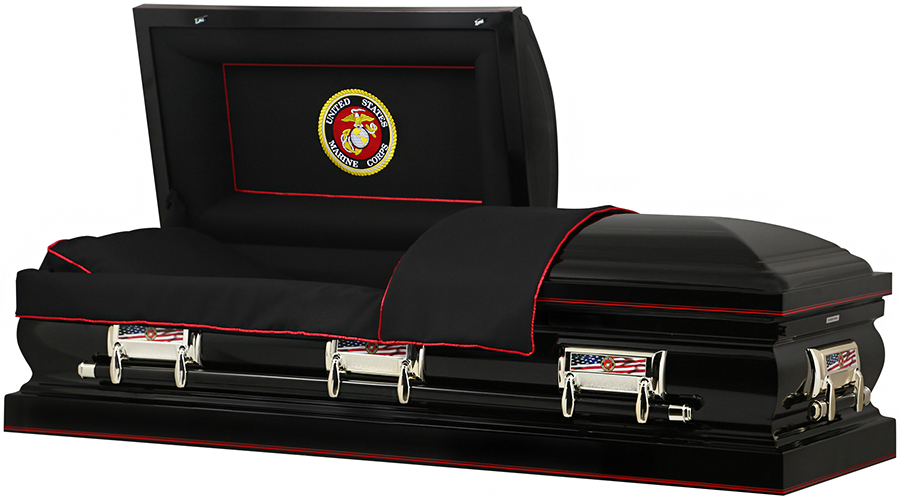 US MARINE CORP Steel - 32In OVERSIZE
Description :
Click on Image for a Larger Photo of the casket! QUESTIONS??? Call
us now at 1-800-550-7262

Personalized with Marine Corps-HOORAH!
Inside cap panel embroidery, and outside Seal.ALSO available for
$195 is a 6in emblem on the throw!

MADE IN AMERICA FOR AMERICAN FAMILIES!

Special Honor and Respect is due to every man and woman who have
served our country in the US Armed Services. And nothing is better
to honor them at time of need than this US Made casket.

OVERSIZE - This 18 gauge selection has a specialized shell with a
32 inch width at the shoulders, Flag Emblems on the Handle Lugs
all around. Complete with a gasket and sealing hardware.

NEED A LARGER SIZE INTERIOR? Call us and we can work with you
for interior widths up to 44 inches! Call 1-800-550-7262

The interior is a unique Military uniform style fabric and is
used for all of the Tailoring and Trimming throughout.

In the Head panel is a 10 inch Service Seal embroidered emblem
brilliantly displayed. For an extra charge, a smaller emblem (6
inch is best) can be placed on the blanket if desired.Cost $195

The finish is Black on the entire shell with a double
chrome pin stripping accent on the top lids. Red striping
is on all the edges.

Shipping anywhere in the USA. Standard shipping (1-5 days
depending on your location) is $125-$350. Overnight or rush
is available for an extra charge. Call for quote.

Check with us by providing the Zip Code of the delivery point so
we can quote this to you.

Call us at 1-800-550-7262 for answers to your questions.
| | |
| --- | --- |
| Typical Price: | $5199.99 |
| Our Price: | 2499.99 |
Back
---
Please read our terms and conditions before order:
OR

Method #2 : Order by Fax

---
Web Development & Maintenance by Gray Hat Web