ABC News

Cemetery Listings
Special Internet Caskets and Pricing!
Toll free at 1-888-78-CASKET (1-888-782-2753)
Thank you! for visiting the Casket Gallery selection for Fine Wood Caskets and Metal Caskets. Simply click on a category below to view the Price, Picture, and Description for one of our fine merchandise selections!
"Click On Any Picture For More Detail!!!"
Wood Caskets - CREMATION
TEMPLE - Cherry Veneer Cremation Casket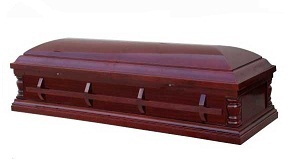 Call us at 1-800-550-7262 for answers to your questions. Beautiful

Veneer MDF Casket with:

FEATURES:

*Exterior: 85.4"L x 29" W x 24"H

*INTERIOR: 78\"L X 24\"W

*Cherry Veneer

*MDF Construction

*Full Polished High Gloss Cherry Finish

*Stationary Solid Bars

*Adjustable Bed Frame (Both Head and Foot)

*Light Almond Velvet Interior

This selection is suitable for burial or cremation. Since construction is complete MDF, it burns cleaner with less ash than a regular solid wood casket when cremated.

This casket has also been selected by those of Orthodox Jewish, B\'Hai, Islamic, Buddhist, Hmong, Christian and \"EcoGreen\" faith because of it\'s simple but elegant design.

Standard shipping (from 2-5 days depending on location)

is only $100! No other charges. If you wish

Overnight or Rush Delivery, it is available

for an additional charge of $350.

Call us first to verify your order once completed.

Please be ready to provide a ZIP CODE for the

delivery information.

Call us at 1-800-550-7262 for answers to your questions!
(Product Code CSAX09) $1499.97
---
Shipping charges are extra, and vary based on time of need for delivery and area of United States. Most shipments are "door to door" per your instructions - usually to the funeral home you have chosen. The funeral home can NOT require you to be present upon delivery, but you may wish to monitor the delivery time and have them verify the arrival and condition. All caskets are guaranteed to your satisfaction.


Casket Gallery Showrooms has literally 100's of casket styles available either in wood, metal, copper, bronze, or stainless steel. If you have a particular model or design you are looking for, simply contact us for a price quote. Custom caskets can be made in metal with 72 hours notice. Custom wood models are available in selected styles and species. Just call us first!


Call Us 1st!!!
Toll Free Nationwide Number
www.casketgallery.com
1-888-782-2753

---
Web Development & Maintenance by Gray Hat Web